Guidelines for Sending Your Child Back to Daycare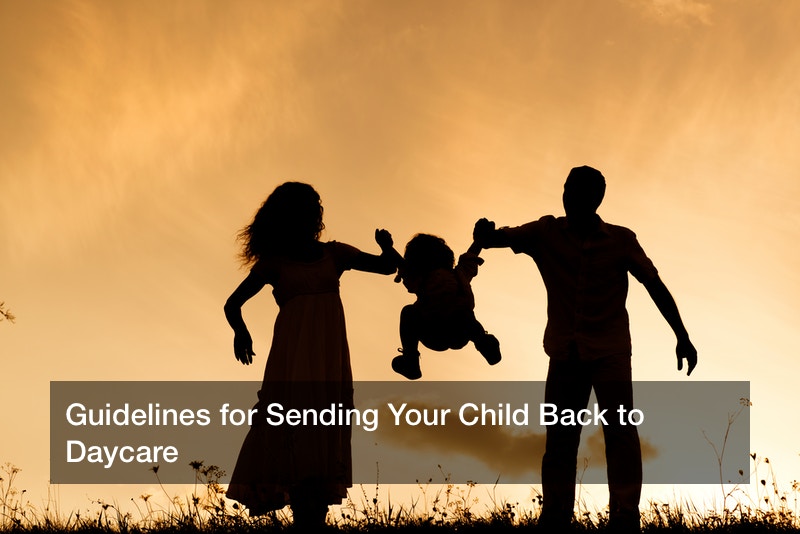 Parents across the nation are fearing for their children during this worldwide pandemic. However, with many returning to work, they can't help but wonder — is it safe to bring them back to daycare? How can they diminish the risk of contracting COVID-19? If you're a concerned parent in this situation, continue reading to learn some safety precautions that you must take when dropping your child off at daycare and limiting their exposure to germs.
The Dilemma With Sending Your Kids to Daycare
If you're scheduled to work fulltime, you may not be able to leave your child home alone. For some parents, daycare is truly their only option. If you're living in an area. But if this is your only way to provide for your family, is it worth taking the risk? If the virus is more widespread in your city, perhaps returning to these routines is not in you or your children's best interests.
However, it's important to note that everyone's circumstance is different. Therefore, contact your pediatrician for a solid answer, as they have more information on your child's health records.
If your child is experiencing symptoms and feeling feverish, keep them home. Keep an eye out for runny noses, sneezing, coughing, and complaints of headaches.
Know What to Expect When Your Daycare Center Opens Up
Call or send an email to ensure the center is taking proper precautions, like having employees wear masks and sanitizing kitchen countertops to decrease the exposure to germs the kids may encounter.
The CDC has also created the following outlines for daycares, and childcare education facilitates throughout the country.
Regular Hand Washing
Your child's daycare should be encouraging regular handwashing with soap and water. Teach them at home and make sure they are washing for thirty seconds to decrease their exposure to germs. Also, teach your children to sing 30 seconds worth of their favorite song, like Row Your Boat or Mary Had a Little Lamb. This method will ensure that their hands are free of germs after touching door handles or playing with friends. Even adults struggle with this, so make sure you're setting a good example for them.
Social Distancing Measures
The daycare center should also be implementing social distancing measures. For example, they should place nap mats approximately six feet apart. Desks should also be spread out if it's a school-like environment.
Remind your children to keep their distance from the other kids, and ask the daycare what kind of activities they are doing to supplement close contact games. Are the children coloring? Are they doing arts and crafts projects instead?
Make sure you're social distancing with your child, even outside of daycare. This can include keeping your distance from others at the park or perhaps avoiding public transportation with your child altogether.
Upkeeping the Cleanliness
Is the daycare center hiring janitorial services? If not, you may want to place a complaint.
Hand Sanitizer
The child care center should also have various hand washing and sanitizing stations in the area to reduce the exposure of germs. Effective sanitizer should contain at least 60% alcohol. Pack some for them in their lunch pack just in case.
Children should use the sanitizer before touching their face, eating, and drinking. Get your young child accustomed to this habit by setting up hand sanitizer stations around the house.
Avoid Water Fountains
The daycare should also encourage children to bring their own water to limit their exposure to germs. Water fountains and riddled with them, after all! Ask your child to avoid these fountains and use a home-issued sippy cup or thermos.
The Use of Masks
All of the employees at the daycare should be required to wear a mask. Children over two years old should also wear their masks at all times as well. Infants and toddlers don't have to wear a mask when out in public, but you should still enforce social distancing measures.
You can purchase cloth masks for your little ones at most major retailers online, or make your own. Buy some with their favorite cartoon characters to make them more excited about keeping it on throughout the day. Additionally, teach them how to put the mask on themselves so they can wear it immediately after snack time. Seeing as that masks are mandatory to enter most businesses, consider wearing one an easy way to limit your family's exposure to germs. Visit an urgent care center if you have been leaving the house without wearing a mask.
If you struggle to get your child to keep their mask on while in daycare, follow these tips.
Create matching family masks.
Wear your mask often, especially when leaving the home.
Place a mask on a stuffed animal to normalize wearing it.
Show them pictures of other kids their age also wearing a mask.
Create the mask together as a fun arts and crafts project.
Wash Their Clothes Immediately
As soon as your kids arrive from daycare, pop their clothes into the washer to limit the exposure to germs they have encountered by laying on naptime mats and playing around with friends.
Moving all Activities Outdoors
If it's possible in your area, daycare centers should be moving most of their activities outdoors to limit the exposure to germs. While it's not a completely fool-proof measure, this may help in the fight against the virus, given that it's airborne and spreads easier in confined environments.
Don't Have Children Bring Toys to School
If your child is accustomed to bringing their own toys to daycare, have them leave these things at home. If they do take something, a stuffed animal or toy car, disinfect it as soon as you get home. You never know if another kid will take their toy, cough on it, and hand it back. The same goes for any school utensils. If your child typically brings their own crayons and colored pencils, ask the school to provide their own batch to closely monitor how often these arts and crafts supplies get cleaned.
Be Prepared for the Rough Adjustment Period
Understand that getting back into the routine of things will be hard initially.
Your young children have grown accustomed to being by your side during quarantine. Being apart from you for hours can cause them to act out until they're well adjusted. To prevent a meltdown at daycare, tell them where you're taking them the day before you drop them off. Be extra caring and patient with them during this transition period. You can also prevent a meltdown by reminding your child of all the things they loved about daycare. Remind them of their favorite teacher, their favorite snack, or their best friends. This should help calm the angst and jitters.
Stay Alert When Taking Your Kids to Daycare
Stay vigilant and monitor your child for symptoms when you bring them home each day.
Keeping Your Children Safe at Home
Of course, these safety precautions don't just stop at daycare. Practice these at home and out in the world to keep your kids as safe as possible.
Don't Leave Home Unless It's Necessary
If you need to run to the grocery store, try to get this done after work while your child is still at daycare. Have one person in the family purchase groceries and stay at home as much as possible. Find new ways to keep the family entertained in the living room or your backyard.
If You Go on a Vacation, Make it Nature Based
Given that many families go on vacations around summer, ensure you're not visiting an overpopulated place when leaving home. Avoid theme parks and other closed-in venues. Instead, go camping or visit a national monument with your children. Go anywhere that has open-air and space to limit your family's exposure to germs.
Are Kids at a Higher Risk of Contracting the Virus?
So far, it's been shown that kids are not at a higher risk to contract the virus, but this doesn't mean that you shouldn't take precautions. Children who are considered high risk have auto-immune disorders, so increase your time at home if your child has shown signs of possessing this health risk.
Being the Healthiest Parent You Can Be
One of the best ways you can keep your kids safe is by keeping yourself safe. You won't risk bringing the virus home. Additionally, you can't afford to fall ill when your children depend on you so visit your family doctor if you suspect that you're encountered the virus.
On top of watching out for your young children, prioritize your health too. If you're feeling under the weather, stay home. Wear your mask when out in public and avoid touching your eyes, mouth, and nose.
If you begin to notice symptoms, get tested immediately.
Keep an eye out for:
severe coughing
shortness of breath
fever
Disinfect Door Handles
You don't have a lot of control over who or what your kids encounter while at preschool. Therefore, wipe down popular areas of your home, such as door handles. Use a wipe that's been soaked in a disinfectant solution to limit your exposure to germs in the home. Professional cleaners can help keep germs at bay, so ask the preschool about bringing on their own team.
Keeping Your Kids Mentally Stimulated
We have all found this to be true — staying indoors for too long can take a severe toll on one's mental health. Your kids are no exception. They can get bored and restless if they're not stimulated properly. If you're worried about their wellbeing in this regard, here are a few ways that you can keep them mentally stimulated outside of daycare.
Have them help you with light housekeeping. Furthermore, since younger children thrive with routines, give their days some structure. Set an alarm and wake up at the same time every day. Prepare breakfast at roughly the same hour.
They might be able to go to piano or soccer practice for a while. So, mimic these environments at home to give them a similar experience! Also, if they're not attending school, run them through a mini-lesson of math or science. This will make the transition back to daycare even more seamless.
Virtual Playdates
Many playdates with the family will have to be done via Zoom calls. Ensure that you're getting plenty of family time online by calling up Grandma and Grandpa once or twice a week. If your young children have close friends, set up a virtual playdate to catch their friends up to speed.
Take Walks Outdoors
If your child's daycare is not implementing enough time outdoors, take your child on a walk around the neighborhood so they can get their energy out. This is another way you can decrease your family's exposure to germs while getting some much-needed exercise after being cooped all day indoors.
Conclusion
You want the best for your kids, even during a worldwide pandemic. If you're concerned about sending your children off to daycare, ensure you're taking the proper precautions by implementing these healthcare guidelines for the entire family.
Understand that you're taking a risk by increasing your exposure to germs every time you step outdoors. However, if you have no choice regarding the matter, speak with your pediatrician before coming to a solid gameplan. There are many variables to consider, like your child's current state of health, and the daycare's responsibility of limiting the risk of COVID-19. Ask for their detailed plan to limit the exposure to germs before bringing your child in so you can make the most informed decision for your family.